Study Abroad In Singapore
Study Abroad In Singapore
Singapore education system is well-known worldwide. With excellent schools, facilities and teachers, Singapore education system is broad and comprehensive. Singapore's education follows the British Commonwealth education system while absorbing the essence of Eastern and Western culture. Its biggest advantage lies in its bilingual policy. Students must learn English and another language (such as Chinese, Malay or Tamil). The predominantly Chinese environment allows Chinese students to integrate faster and more easily. In addition, the Singapore government has also introduced one of most family friendly policies – Long term pass, which allows the mother, maternal grandmother or paternal grandmother to come to Singapore to accompany the student. This policy allows students to study in Singapore with peace of mind and complete their studies.
Singapore government primary school is a 6-year system. After graduating from primary school, take the Primary Six Leaving Exam (PSLE)
After passing the PSLE ​​exam, student would move forward and enter the first grade of a government secondary school. After four years of study, the student will take a secondary school Cambridge General Education Certificate (O level) jointly organized by Singapore and Cambridge University in the UK. With an O-level result, the student can apply for Singapore Junior College (JC, equivalent to high school level) or Polytechnic (Poly, equivalent to junior college level)
Students in junior colleges can take the A-level exam after completing the two or three-year courses and apply to universities around the world with A-level results. Students studying in polytechnics can get a college diploma after graduation. You can choose to directly find employment or apply for colleges and universities around the world with the results of polytechnics.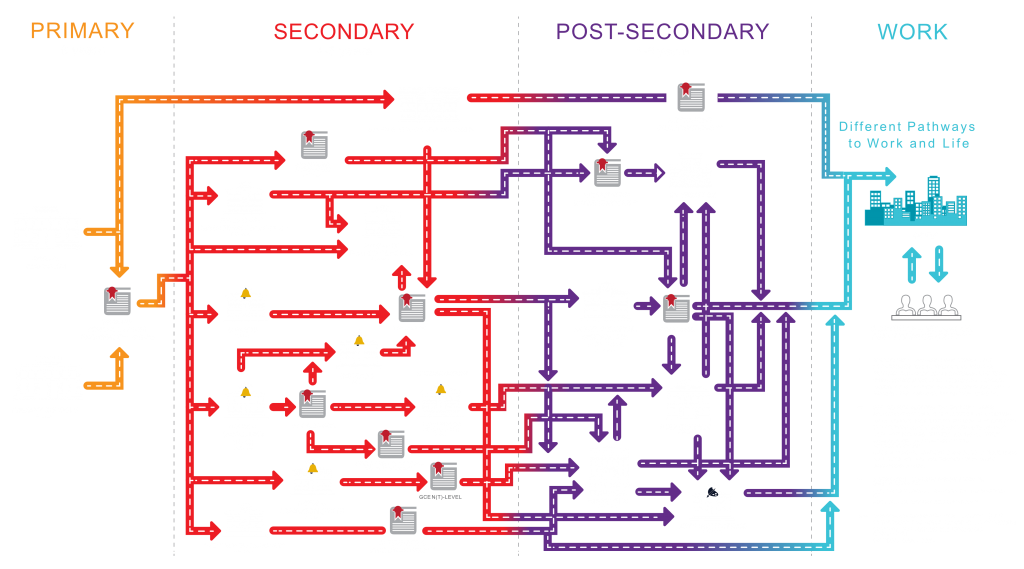 Foreigners can directly apply to study in Singapore kindergarten even if the parents do not work in Singapore, does not hold Singapore Permanent Resident / Singapore Citizenship status. Government kindergartens are cost-effective, private and international kindergartens have advanced facilities and beautiful environment.
There are three types of kindergartens in Singapore:
Government kindergartens
Private kindergartens
International kindergartens
Kindergartens in Singapore will accept students' applications at any time as long there is vacancy. For international students, applications should be initiated four months in advance.
Singapore Government Primary And Secondary School
Government schools in Singapore are fully funded by the government. The development and administration of the schools are under the full control of the Ministry of Education (MOE). The courses are also set by the Ministry of Education. They have the best teaching resources in Singapore and have maintained a high level of teaching quality.
According to the "2011 World Competitiveness Yearbook" of the Swiss International School of Management, Singapore ranks third in the world in the global education system rankings. 
In addition, in the results of the PISA (abbreviation for the International Student Assessment Program) test released by the Organization for Economic Cooperation and Development (OECD) in 2018-this test was taken by 540,000 students from 72 countries and regions around the world, Singapore came ranking first in three test areas-mathematics, reading and science.
Compared with European and American countries, the cost of studying in Singapore is lower and cost-effective. Singapore pursues an internationalization education policy that allows mothers to accompany students to Singapore and stay until the students enter the Singapore Government Polytechnic or Government University.  
Secondary school students who passed the O-level examination with excellence, may tapply for admission to the government institute of science and technology and receive 80% of the bursary provided by the government. After graduation, you can apply for a green card with your parents to achieve employment and immigration in one step.
AEIS/O/A - Level Preparatory Courses
AEIS/O/A Level Preparatory Courses include
Singapore government preparatory courses for primary and secondary schools
Singapore O-level preparatory courses
Singapore A-level courses
It is suitable for students who want to take the above three exams in Singapore. You can choose the preparatory course you need according to your situation.
Singapore Private Primary and Secondary School
Students who wish to study in Singapore's private primary and secondary schools do not need to take the AEIS exam for admission, provided if the school has a vacancy and the student has passed the school's admission ability assessment. Singapore's bilingual environment and multiculturalism create a more suitable environment for students to study abroad, which helps students to smoothly pass the adaptation period. This cannot be replaced by other countries.
When choosing a private primary and secondary school in Singapore, student should choose a school certified with Edu Trust certification. Teachers in Singapore's private primary and secondary schools are all registered under Singapore Ministry of Education. They share the same start time for school and curriculum in government primary and secondary schools. They use the teaching materials provided by the Singapore Ministry of Education. Students participate in the same graduation exams taken by the students in Singapore government primary and secondary school. 
Fees for Singapore Private Primary And Secondary School on average:  $25,000 – $40,000 SGD
Singapore International School
In addition to high-quality public education resources,  well-known international schools are also a major feature of the Singapore education.
Many Chinese parents, international diplomat envoys in Singapore or representatives of large multinational companies have chosen Singapore International School for their children. There are dozens of international schools in Singapore, many of which are world-renowned.
Most international schools offer IB courses, and students with IB certificates can directly apply for admission to more than 4000 universities in more than 120 countries. And the advantages of applying for world-famous universities are obvious, the world's top universities, including Harvard and Cambridge.
Singapore's international schools carry IB courses. In terms of past IB results, the passing rate of Singapore IB courses is as high as 98%, while the global average passing rate is only 68.73%. Sixty percent of global candidates with perfect scores are from Singapore, with the best results in the Asia-Pacific region.
Fees for International Schools in Singapore on average:  $25,000 – $40,000 SGD
Please also note that most schools will also charge other fees. For example, the registration fee is usually $3,000 – $5,000 SGD, and the school will charge ESL fees, usually between 2,000-5,000 SGD, depending on the amount of ESL support the students need.
Singapore Private University
Singapore's Ministry of Education stipulates that private universities in Singapore can only issue diploma for college courses. Therefore, most private universities in Singapore partnered with famous overseas universities to provide degree which are recognized in the world. In addition, Singapore's private universities have a shorter academic system to obtain a degree – with a maximum of 30 months. Moreover, Singapore's tuition and living expenses are relatively cheaper than those in the United States, Britain and Australia. 
Students who need to improve their English standards can enroll themselves to study Business English.  Levels of certification provided by schools in Singapore include – Diploma, Degree and Master and MBA
Popular Courses include:
Business Management
Engineering
Life Science
Hotel Management
Finance
Xincheng Group works with schools like SIM, SMU, Kaplan Education, Curtis, MDIS JCU, NAFA, LASSELLE, Raffles Music School and PSB etc.
Singapore Master Programme
Singapore education inherits the Education system of the Commonwealth. Post-graduate students are divided into two types: reserach-based and course-based. In Singapore research gradudate students need to study for 1.5 o 2 years, while teaching graduate students only need to study for 1 to 1.5 years. The research-based master is a transitional degree with a focus on academic research, supplemented by lectures, and generally offers scholarships. The teaching type graduate students are the graduate students who give priority to teaching, supplemented by research and take employment as the purpose. Currently, we focus on applying for course-based master's programs for students.
If you have questions regarding our services, please contact us.